Dental Appliances & Night Guards in Mississauga
Dental Appliances Near You
In addition to providing regular dental hygiene appointments, restorative dental treatments, and cosmetic dental procedures, we also offer several options for custom dental appliances in Mississauga. We partner with a professional dental laboratory to make custom dental appliances available for all our patients. Some examples of the most requested dental appliances include night guards, sports mouth guards, snoring devices, and sleep apnea devices.
Dental Night Guards Near You
Night guards are removable mouthpieces that are worn while sleeping to relieve jaw muscle pain, stop teeth grinding, and to help alleviate snoring and TMJ issues. Teeth grinding (bruxism) is the involuntary grinding or clenching of your teeth that usually happens while you're sleeping. Some people may wake up to pain in their jaw. Others might not even notice until their next dental visit when noticeable wear on the teeth becomes apparent. If you grind your teeth at night, as our dentists about a professionally made night guard.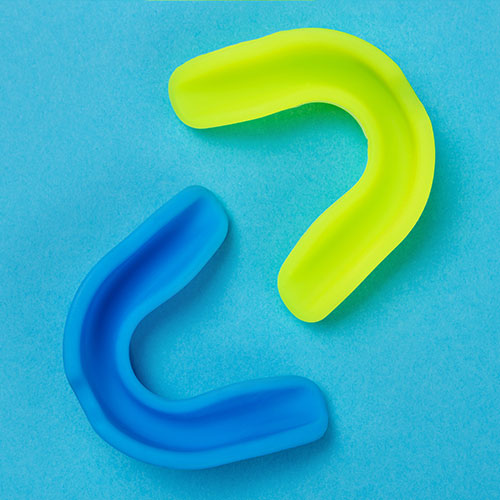 A sports mouth guard is a protective device that covers the teeth and gums to prevent and reduce injuries to the mouth during sports with physical contact, like martial arts, hockey, or boxing. A mouth guard not only protects your teeth but also your lips, gums, head, neck, and jaw. A custom-made mouth guard is designed especially for your mouth, providing you with better comfort and a greater ability to breathe than over-the-counter options.
Snoring Devices & Sleep Apnea Devices
Do you repeatedly snore at night? Do you wake up frequently with difficulty breathing? You might be a chronic snorer or suffer from sleep apnea. A lack of sleep can affect your mood and overall health and negatively impact your relationships. At Turtle Creek Dental, we offer solutions to help you sleep better and feel great. If you'd like to get a good night's sleep, ask us about your dental appliance options.
When Was Your Last Visit?
Take Care Of Your Oral Health & Book Your Dental Hygiene Appointment Today
We partner with our patients to achieve healthy, beautiful smiles. Prevention is key, which is why we hope to see you regularly to check in on your oral health and offer early interventions. You can rely on us for all your dental needs!