Thank you for your interest in our Free
Whitening in Mississauga For Life Program
To Claim Your Free Whitening Kit:
Contact our clinic via email, phone, or by filling out the form below
Request your new patient exam
Once you complete your new patient exam you will receive your Free Whitening Kit
To Continue Receiving Your Free Whitening For Life:
simply return every six-months for your regular hygiene and cleaning and we will re-fill your whitening.
Some terms apply, see details for more information.
"*" indicates required fields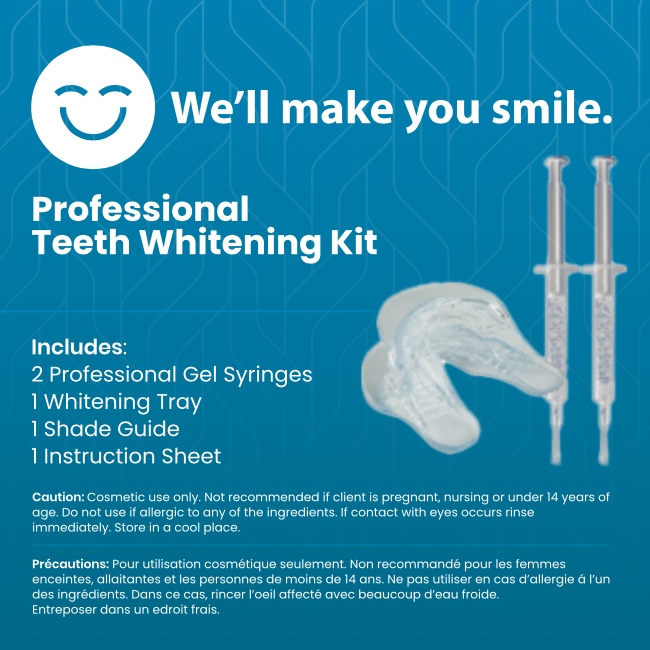 We are conveniently located on the north side of Lakeshore Road West, East of Erin Mills Parkway in Mississauga. Find us in the plaza above Solstice restaurant in Clarkson Village, between Scotia Bank and McDonald's with plenty of free parking available.
Mon:

-

-

-

-

-

Closed

Closed
Terms and Conditions
Patient Loyalty Program / Free Teeth Whitening for Life Terms & Conditions:
To be eligible to apply for membership in the program, new patients must be:
be at least 18 years of age. Exception can be made on recommendation of treating Dentist.
Complete initial hygiene cleaning, x-rays, doctor's exam, and re-appoint for two-to-six-month re-care, as prescribed by your dental professional.
Complies with the minimum required dental care and treatment planned by your dental professional that is required to safely accept professional grade whitening gel in the oral cavity.
What are the Lifetime Maintenance Conditions?
Once you have been accepted as a Member, you must:
maintain the minimum ongoing care and treatment prescribed by your dental professional;
maintain continued hygiene care (two to six month hygiene appointments, as prescribed by your dental professional)
comply with any requirements or directions from your dental professional or this dental office including but not limited to, any policies regarding payments, outstanding accounts or broken appointments.
At any time, the clinic reserves the right to:
make changes to the Terms and Conditions
Terminate, modify or suspend the program.
When Was Your Last Visit?
Take Care Of Your Oral Health & Book Your Dental Hygiene Appointment Today
We partner with our patients to achieve healthy, beautiful smiles. Prevention is key, which is why we hope to see you regularly to check in on your oral health and offer early interventions. You can rely on us for all your dental needs!